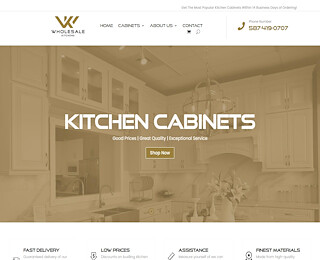 Kitchen cabinets make all the difference between a kitchen we love or dislike. These basic units serve more than a functional purpose of keeping away the excess kitchen items; they also define the ambiance because they are visible. You will learn so much by looking at kitchen cabinets in different homes and appreciate the detail that goes into putting together highly aesthetic pieces, which brighten up the room.
Things To Consider When Choosing Kitchen Cabinets Designs
Compare Different Materials
Hardwood has a distinct pattern, color, knots, and pinholes you cannot get in the alternative options. The benefit of using hardwood is that you will get a better-looking kitchen than you would have with any other option, which means your entire space will have a value that elevates the entire home. Some standard hardwood options for cabinets include:
Accoya
Ayan
Ash
Walnut
Cherry
Mahogany
Some of the above hardwood materials will only get richer with age, so your Oak kitchen cabinets will look better than worn out after a couple of years.
Compound materials offer a lot of different looks, such as gloss, matte, contemporary, and wood-like, so you will have more style to consider. These compound materials will tend to be more affordable than hardwood, but they still have the potential to look just as good, if not better, for the first couple of years or decades.
Finishing
The finishing on kitchen cabinets for sale takes on a lot of different styles, including dark hues, a glaze, and patterns that imitate natural hardwood. There are finishing colors that enhance hardwood or compound materials, resulting in slightly different textures and color variations. Most RAT buyers are not concerned with these details, so we do not include them in the product description. We will be glad to offer you more information if you speak with us for further consultation.
Framing
Typically, kitchen cupboards for sale can have a standard frame, be frameless, or have a fitting that sits nicely on the face of the frame. The framed kitchen cabinet is the most common of all and is common in classic cabinet constructions. Frames add a certain degree of extra durability to the cabinet, while frameless ones allow more accessibility and can be more aesthetic than the former. Inset features have a fitting that sits on the inside of the cabinet's frame, making it more modern and sharper because it has less clutter.
Installation Grade
Cabinets can be grouped according to their installation options. Some common options include:
Stock – These are pre-measured kitchen cabinets that you can order after sending in your sizes to the manufacturer.
Custom or semi-custom – The manufacturer allows you to select every detail of the cabinet before they order and can allow you to choose different finishes and additional custom styles to make it as custom as possible.
RTA – The cabinets are easier to install because they have all the features fitted into their positions. We distribute RTA cabinets of a couple of different styles and sizes, so you should be able to get something that is thoughtfully sized to match your kitchen.
Are you interested in RTA cabinets that you can assemble in less than a day? Check out our store for detailed descriptions before making an order before buying kitchen cabinets in Lethbridge.